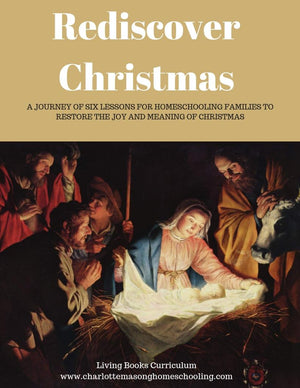 Rediscover Christmas - Course
Sale price Price $47.00 Regular price Unit price / per
6-Lesson, Step-by-Step Course with Classic Christmas Stories on Audio and e-Book, Art by the Great Masters, Hymns and Folk Songs, Christmas Musical Masterpieces, Handwork, Gift Ideas, Subject-specific Learning (geography, history) using Charlotte Mason's wonderful methods to enjoy the holiday.
OVER 100 HOURS OF LISTENING & READING ENJOYMENT
Plus Weekly Lessons for Enjoying the Books and Audios
Dear Homeschooling Parent,
It is my heart-felt mission to restore the sense of joy in the seasons and festivals. Our children need these times to renew and restore, to receive the sense of continuity that these traditions provide.

Envision family time focused on the events leading up to the birth of Jesus. Pouring over picture studies of the Christmas story in great art, listening to charming folktales that have been part of celebrations for centuries. Creating a Jesse tree or advent calendar that tells the story of Jesus throughout the Bible. Imagine taking time from your homeschool to focus on the things that matter most at this time of year.
It's not always easy in today's culture to experience these things--even for homeschooling families.
That's why I created the LBC Rediscover Christmas Course.
It's a step-by-step weekly plan for using a wide range of resources in your homeschool, family devotions, and leisure time.

Here's what you receive.
20 downloadable...
Living books, audios, picture studies, recipes from homeschooling moms like yourself, music, folktales, and more. Then we send you help to use all these wonderful resources!
Six lessons to help you truly celebrate Christmas
Six weekly lessons leading up to Christmas and beyond to help you use the digital collection and give you inspiration for the journey. Each lesson will give you the tips and explanations you need to make the most of your homeschool time.
Still more...
Guides to create a Jesse Tree, advent Calendar, Story Stocking, practical projects to help others in need at this time of year (each sent with your weekly lessons).
Best of all - 100% of your purchase supports our work in Africa
Living Books Curriculum is a nonprofit ministry. Every purchase you make helps us provide a living education for our seven schools that we serve in Nigeria, Sierra Leone, and Ethiopia. 
Here is the Complete List of the Living Books Digital Christmas Collection
that Comes withYour Purchase
Literature

A Christmas Carol - Part 1 (MP3)
A Christmas Carol - Part 2 (MP3)
Christmas Carol--print version (PDF)
An audio version of the perennial favorite of the Christmas season in which Scrooge learns to love. This production features well-known actors and music. Plus the full text to read aloud.Christmas Every Day, William Dean Howells (PDF)
The Cinnamon Bear (MP3 -- 26 episodes)
The Cricket on the Hearth, A Fairy Tale of Home, Charles Dickens (MP3)
The First Christmas Tree (PDF)
The Other Wise Man, Henry Van Dyke (MP3)
The Story of the First Christmas Creche (PDF)
I Heard the Bells on Christmas Day, Henry Wadsworth Longfellow, 1864 (PDF)

Music & Hymns

 An Old World Christmas (60 min.; MP3)
Bach: Cantata, Jesu, Joy of Man's Desiring (MP3)
Four Christmas Hymns: Joy to the World, The First Noel, Silent Night, Hark! The Herald Angels Sing (MP3)

Picture Study

Behold: The Christmas Story in Great Art (PDF) 

10  high-quality reproductions of  art beginning with Joseph's visit from the angel in Luke 1:20, through the Annunciation to Mary, her
visitation with her cousin Elizabeth, the birth of Christ, the
annunciation to the Shepherds, the  Three Kings, the flight into
Egypt, and Jesus' return to Nazereth, by such artists as Boticelli,
Bruegel, Giotto, Lippi and others.

Handwork

LBC Christmas Crafts--eleven easy to do projects (PDF) ALSO: Your weekly lessons include projects using paper sloyd and repousee.

Folktales & Poems

Christmas Tales and Christmas Verse (PDF)

Recipes

Christmas Recipes (PDF) Eleven recipes contributed by homeschooling
mothers with notes about their family traditions.

General Help

"Tips for Printing eBooks", (PDF) by Sheila Carroll "Five Ways to Slow Down Christmas (PDF) by Sheila Carroll