"My husband and I want to thank you so much for all the work you have done on your curriculum. It is worth every penny you charge for it. I am reading over The Foundation Year's teaching guide and you make it so simple, but still so in depth and thought out. I am so unbelievably blessed to have stumbled across Living Books Curriculum in our search for the best for our kids. I am so excited to get started on my homeschool journey, and I thank you again for making it possible to be done His way."
"You have saved my life! 
We began homeschooling my daughter in 4th grade, and the past 3 years have been a struggle.  Finally, after much frustration, I went online and found your site.  This year we will be ordering your curriculum. My daughter is do excited about next year, and she has never been excited about
school!  Thank you so much for putting all of this together."
"Thank you, thank you, thank you! I have been diligently seeking for quality materials to teach my three
young children. I have found those with you. I can't express the thrill we had as we pulled out book after
book with wonderful titles, themes, and illustrations."
"I have used some of the Charlotte Mason ideas with my older children.  When I found Living Books Curriculum I knew I wanted to use it with my youngest two, one of which has special needs.  The teacher's guide has so much helpful information and is easy to use.  I appreciate the hard work and I highly recommend Living Books Curriculum."
"I can't imagine homeschooling without living books curriculum. I remember seeing my daughter soar in her ability to read from the classical education she was getting, but she did not love to learn or love to read.  This year though, thanks to Living Books Curriculum, I have seen that spark for books many times! 
There is nothing like seeing our children get our box from LBC, hold the books in their hands and want to learn what's in them.  Our family is committed to LBC and use only CM and it's for the long road because we love what
and how they're learning."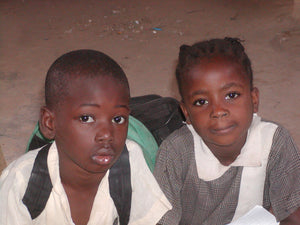 Donate to LBC's School in West Africa
Sale price Price $5.00 Regular price Unit price / per