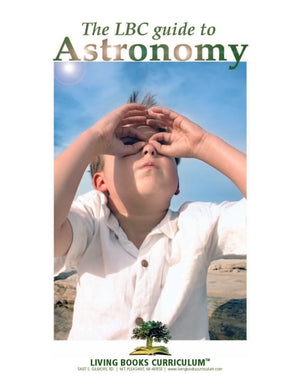 LBC Guide to Astronomy
Sale price Price $24.00 Regular price Unit price / per
36-week study for use with Exploring Creation with Astronomy and uses Charlotte Mason methods to compliment the studies. Best for ages 7 to 12.
Wirebound or digital
52 pages
--
A 36-week study of astronomy that uses living books, narration, notebooking and correlates with other subject areas, such as, writing, poetry, nature study, spelling, copywork, and dictation.
Perfect for students 7 and up. The LBC Guide to Astronomy is a 52-page study guide. Each lesson has an explanatory narrative, notebook work, an activity, and a project, followed by a range of related work in such areas as spelling, dictation.
The LBC Guide to Astronomy:
Gives clear step-by-step instructions, plus our special Year-at-Glance overview of readings and relevant activities.
Designed for multi-age and multi-grade level use
Uses Apologia's Exploring Creation with Astronomy as the primary text
Includes living book biographies of Johannes Kepler, Copernicus, and Galileo, as well as science fiction. (some books available from LBC)
Correlates with other subjects such as, writing, poetry, nature study, spelling, copywork and dictation.
Organized by topic and week, saving you time.
End-of-term narration questions for assessment, just as Charlotte Mason used in her curriculum.