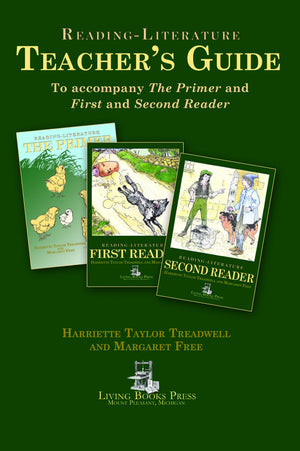 Reading-Literature Teaching Guide
Sale price Price $12.50 Regular price Unit price / per
Step-by-step teaching guide to reading instruction.
Learning to read can be joyful rather than a matter of word repetition and phonic drill. Margaret Free and Harriette Treadwell saw literature as the ideal form for teaching reading because stories and poems capture the child's interest, making learning an easy road.
Print version: 135 pages, soft cover
Digital version: direct download
Author: Harriette Treadwell & Margaret Free
--
This guide is designed to accompany The Primer, First Reader and Second Reader and provides a simple, lesson by lesson plan for teaching beginning reading. The authors believed that that if you give children something worth reading and use it as a vehicle for learning to read, they will be life-long readers. Reading-Literature Teacher's Guide is an unabridged edition of the original work published in 1916. Living Books Press has carefully edited and updated the guide for modern readers while maintaining Free and Treadwell's timeless methods. The Primer, First Reader and Second Reader are also available from Living Books Press.