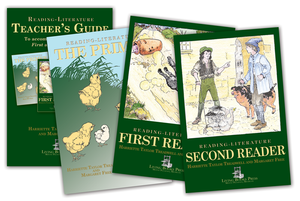 LBC I Love To Read Set
Sale price Price $36.00 Regular price Unit price / per
Buy all four of the Reading-Literature series. A complete Charlotte Mason-style reading program.
Best for ages 5-9.
TEACH YOUR CHILD THE JOY OF READING:
No dumbed-down reading in this lovely four-volume set.
The LBC I Love to Read Set includes a teaching guide, three readers and Flash Cards (word recognition and phonics):
Print version: includes 4 softcover books + digital access to Flash Cards
Digital version: direct download
Authors: Margaret Free and Harriette Treadwell
--
Now you can teach your child the joy of reading with our teaching guide and use the readers again and again for reading fluency. This easy-to-use teaching guide set includes:



The Reading-Literature Teacher's Guide shows parents and teachers an easy to follow literature-based reading program suited to the child's developmental level. The authors, Free and Treadwell, present very
specific steps, including a lesson-by-lesson plan for beginning reading.


The Primer, First Reader and Second Reader are phonics-based readers which use quality literature rather than "twaddle," as Charlotte Mason termed dumbed-down texts.


Authors Margaret Free and Harriette Treadwell maintain that reading instruction should be a joyous activity. To achieve it the authors use phonics (with some sight words) for early reading... with one important addition: their reading starts with and continually works from good literature. Phonics instruction grows from the child's own curiosity and interaction with word-rich literature.
As you learn to use the guide and the three readers that accompany it, you will begin to see that Free and Treadwell had it right--reading is a joyous activity. Includes four books and a sets of Flash Cards (flash cards are digital access only).