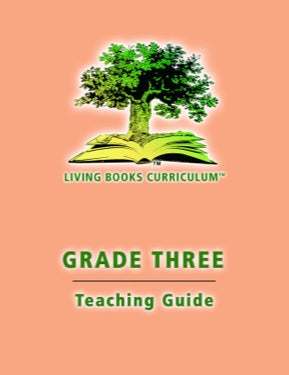 LBC Grade Three Teaching Guide & Resources
Sale price Price $97.00 Regular price Unit price / per
Best for children 7-9 or families wishing to combine children ages 6 to 10.
Living Books Curriculum's Grade Three continues the pattern of living books and life experiences begun in the Foundation Year and Grades One and Two. Grade Three is a transitional year for a child. The earlier years established learning habits and subject awareness as well as the large developmental task of learning to read. In Grade Three, students begin to apply and polish these fundamental skills.
Print version: 158 pages, wire bound
Digital version:  direct download
--
Detailed Description of Grade Three
Term-by-term overview of each subject and a week-by-week schedule that details how to use the literature to teach each subject. Flexible scheduling using the LBC trademarked "Planning for Learning" method which uses 36-week year divided into four terms. This grade covers:
Bible Study: Scripture reading and memorization, and a study of biographies of missionaries.
Language Arts: Includes storytelling, penmanship, grammar, poetry, dictation and recitation.
American History: Westward Expansion is the era of study with emphasis on the explorations west and south by Lewis and Clark, Daniel Boone, Davy Crockett, and Sam Houston.
World History: Covers the ancient Greek and Roman world up to the fall of Rome in 476 AD.
Science: Explore four strands—earth, physical, living, and health. Special study of flight and the history of science begun in Ancient Greece.
Geography: Study of maps of the ancient world and of the westward expansion, correlate with World History and American History.
Composer Study: Ancient Greek music, Palestrina, Vivaldi, and J. S. Bach.
Nature Study: A guided exploration into nature and the use of a nature journal.
Picture Study: Greek and Roman art and art in early America.
The Grade Three Resources include maps, LBC Planner, documents, helpful articles, and a printable text of the book Old Greek Stories.