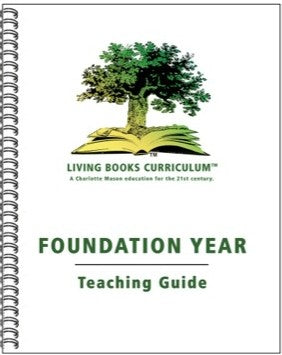 LBC Foundation Year Teaching Guide
Sale price Price $97.00 Regular price Unit price / per
A year-long guide for 4 and 5 year-olds in math, literacy, science, and language. The Living Books Curriculum's Foundation Year provides your child with learning readiness skills and early literacy experiences that will ensure success in education and life. The Foundation Year curriculum can be used for one or two years, first year can be at the awareness level and the second the mastery level.

Print version: 225 pages, wire bound
Digital version: direct download
--
Detailed Description for Foundation Year
A 255-page guide to the Living Books philosophy with an overview of each subject.

Week-by-week schedule that details how to use the books for a 36-week period.
Complete booklist of books to be used for kindergarten is provided.
ABC Assessment Test: A gentle, easy-to-administer test to assess the progress of your child. Developed exclusively for Living Books Curriculum.
Kindergarten readiness checklist.
A "Music and Movement" curriculum provided by the High Scope Foundation.
Step-by-step guide for the using the high-quality literature books recommend by LBC for kindergarten.
Collection of eighty-eight finger plays and rhymes.
LBC Daily Planning Template