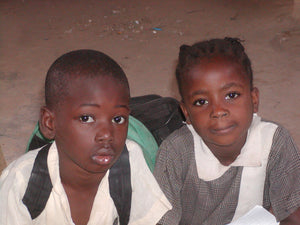 Donate to LBC's School in West Africa
Sale price Price $5.00 Regular price Unit price / per
Your donation helps us provide a living education to children who have no access to learning. Read about our amazing students in the description below. The pictures were all taken by me or my assistant while in Nigeria.
Your donation is tax-exempt and deeply appreciated. Living Books Curriculum is a non-profit company under the 501 C3 Worldwide Educational Resources. Upon receipt of your donation we will send a confirmation which can be used for tax purposes.
--
In 2008 Living Books Community School was born deep in the bush north of Lagos, Nigeria. The needs of the villagers were many. So far we have provided clean water, a school, a generator, and most important HOPE.
Our first graduates tested FAR above other schools
The students learn well. Our first graduates last year went to a middle school in the nearby town. They were tested to know where to place them. Results showed they were FAR ahead of other children and were moved up two grades. This shows how incredibly effective a quality education is even in remote places.
The children are bursting at the seams!
The school began in a mud hut and 16 students. Now, only six years later we have 183 students, grades K-6, six teachers and a head master. Last year, we started an addition to house students and a 1000-book library of donated books
We began a large addition...
To house our growing school an addition was started. The cement brick walls are half high, a metal roof needs to be done, and the local help are eager to finish the work. Funds are now need to get the job done. YOU CAN HELP US FINISH THE SCHOOL.
A important story...
One spring morning in neighboring villages in Nigeria, two boys were born. They were very much alike, these two. Both had better than avenge intelligence, both were warm and personable and both were filled with dreams for the future.
These boys grew to be men. They were still very much alike. Both married. Both had children. But there was a difference. One of the men continued to farm as his parent's had; growing root crops and being cheated by unscrupulous buyers. His children were often sick due to the poor water supply.
The other was able to get the laws enforced that forbid price fixing in the markets. He was also able to teach the people of his village how to grow their crops more productively. He became an elder, conducted adult literacy classes. And, he worked with the villagers to hand dig the well that brought clean water.
What Made the Difference?
Have you ever wondered what makes this kind of difference in people's lives? It isn't always native intelligence, talent or dedication. It isn't that one person wants success and the other doesn't.
The difference is in what each person knows and how he or she makes use of that knowledge, in other words---education.
That's why we need your help to continue to provide a living books education. It means so much to the children and to the future.