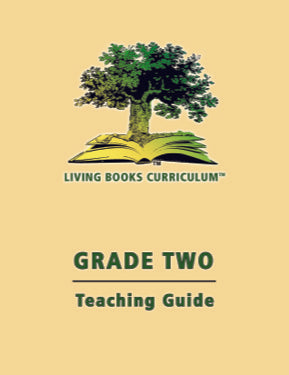 LBC Grade Two Teaching Guide & Resources
Sale price Price $97.00 Regular price Unit price / per
Best for ages 7-8 or families wishing to combine ages 6-8.
Grade Two is designed to help your child improve reading fluency, sustain longer narrations, and listen to and tell more complex stories. This year, grammar and regular copy work are introduced. The American Revolution and the establishment of the constitutional government are the areas of study for American history. In world history, the year is spent exploring the wonders of ancient Egypt, a topic of fascination to most children. For science, the four strands of scientific inquiry—life, physical, Earth, and health—are explored, each with its own focus for study.
Print version: 178 pages, wire bound
Digital version: direct download
--
Detailed Description of Grade Two
Term-by-term overview of each subject and a week-by-week schedule that details how to use the literature to teach each subject. Flexible scheduling using the LBC trademarked "Planning for Learning" method which uses 36-week year divided into four terms. This grade covers:



Bible Study: Scripture memorization and a study of great heroes of the faith.


Reading Fluency—some practice to assure reading at level.


Language Arts: Includes storytelling, penmanship with copywork, poetry, grammar and many books for reading aloud.


American History: Revolutionary War and the Founding of the Nation, with emphasis on the men and women who made the new nation possible.


World History: A guided exploration into the history, people and culture of Ancient Egypt.


Science: Explore four strands—earth, physical, living, and health through literature and hands-on science activities and experiments.


Geography: United States geography, state-by-state.


Composer Study: A study of the orchestra and its instruments.


Nature Study: A guided exploration into nature and the use of a nature journal, with emphasis on birds.


Picture Study: A study of the artist and the artistic process through the paintings themselves.


Grade Two Resources include maps, documents, helpful articles, and a printable planner.