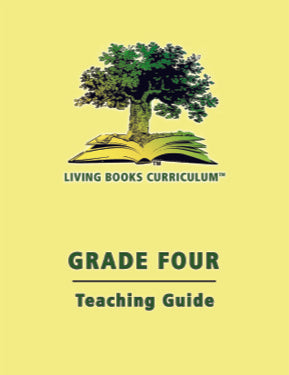 LBC Grade Four Teaching Guide & Resources
Sale price Price $97.00 Regular price Unit price / per
Best for children 9-11 or families wishing to combine children ages 8 to 12.
Grade Four Teaching Guide and Grade Four Resource CD: Term-by-term overview of each subject and a week-by-week schedule that details how to use the literature to teach each subject.
Flexible scheduling using the LBC trademarked "Planning for Learning" method which uses 36-weeks in all, divided into four terms.
Print version: 207 pages, wire bound
Digital version:  direct download
--
Detailed Description of Grade Four
This grade covers:

Language Arts: Includes storytelling, penmanship, dictation, spelling, poetry and a reading of Shakespeare's A Midsummer Night's Dream
American History: Civil War period studied with emphasis on the lives of great men and women of both the north and the south, black and white.
World History: An extensive study of the Middle Ages from the Dark Ages and High Middle Ages to the birth of the Nation State.
Bible Study: Scripture readings and memorization according to the schedule of Charlotte Mason, biographies of heroes of the faith from the Middle Ages.
Science: Year-long study of astronomy, using Exploring Creation with Astronomy and biographies of great minds of the Middle Ages.
Geography: For World History, mapping Europe, and for American History mapping the states as they were during the Civil War.
Composer Study: Music of the Middle Ages, e.g. Gregorian chants and folk music. Also songs of the Civil War era.
Nature Study: A guided exploration into nature and the use of a nature journal.
Picture Study: Study of the works of Giotto, and other medieval artists and Civil War-era art.
Grade Four Resources include maps, documents, helpful articles, and a printable Uncle Remus Stories by Joel Chandler Harris.