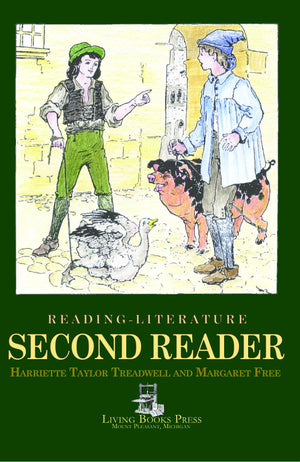 Reading-Literature Second Reader
Sale price Price $11.00 Regular price Unit price / per
Stories for reading fluency and word building.
Reading-Literature: Second Reader uses well-written folk tales, Mother Goose rhymes, and poetry to teach reading basics. The simple style of the stories and rhymes allows children to read for themselves right away. Second Reader is part of the Reading-Literature Series by Harriette Treadwell and Margaret Free published by Living Books Press. The series challenges the notion that learning to read is a matter of word repetition and phonic drill. Learning to read is an easy road when using literature that captures the child's interest.
Reading-Literature: Second Reader is a republication of the 1912 edition. Living Books Press has taken care to faithfully reproduce the type and illustrations of the original. The book includes guidelines for phonics instruction and vocabulary building coordinates with Reading-Literature Teacher's Guide, The Primer and First Reader.
Print version: 149 pages, soft cover
Digital version: direct download
Author: Harriette Treadwell & Margaret Free