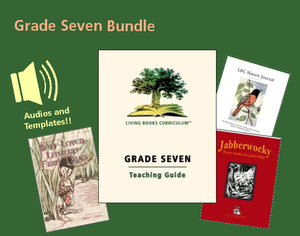 Grade Seven Bundle
Sale price Price $136.00 Regular price Unit price / per
The ultimate LBC package! This bundle includes all books and resources published by LBC Press that you will need to complete Grade Seven with your child. The rest can be affordably purchased on Amazon or borrowed from your library. In addition, you will receive three audio trainings designed to give you an overview of Charlotte Mason principles and how to apply them in your home school. Books included are the Grade Seven Teaching Guide and Resources, Best Loved Literary Fairy Tales, Jabberwocky, and the LBC Nature Journal. The audios are A Closer Look at LBC, Living History with Living Books, and Planning for Learning.
**Please note:  The digital portion of this purchase will be available via a direct-download upon purchase.
--
Here's everything you receive (for both the physical or digital bundle):
Grade Seven Teaching Guide and Resources ($97 physical / $77 digital)
Best Loved Literary Fairy Tales ($18.50 physical / $10.25 digital)
Jabberwocky ($16.50 physical / $10.50 digital)
LBC Nature Journal ($4 Value -

digital access only

)
Three Audios: A Closer Look at LBC,

 

Living History with Living Books, and Planning for Learning ($68 Value -

digital access only

)
Bonus Items: Narration Notebooks and Jumbo Template Pack ($94 Value -

digital access only

)
This is a total value of $298 physical and $264 digital! Now available to you at a special rate of only $136 for the physical bundle, or $102 for the digital bundle only!
***Please note:  Physical bundle includes digital membership access for some of the resources included in the bundle that are not physically produced.
Detailed Description of Grade Seven
Grade Seven Suggested Schedule
The Grade Seven Teaching Guide
This 96 page guide includes the new 4-weeks-at-a-glance format and many helps and instructions for applying Charlotte Mason's principles of education. This grade covers:
Christian Studies-Bible study and practical work, according to Charlotte Mason's guidelines.
Language Arts – Shakespeare along with two Living Press books:



Jabberwocky: Poetry studies for Junior High





Geography – A Book of Discovery, provides an historical context for exploration and geographical knowledge that excels most geography texts because it uses rich literary descriptions of peoples and places; Also includes map work and Book of the Centuries focusing on the places and events mentioned in the histories, science and geography literature. This book is used again in Grade Eight.
Science – uses Exploring Creation with General Science to look at introduce the history of science, scientific inquiry, experimentation, simple machines, archeology, geology, paleontology, fossils, the fossil record, life, classification of life, the human body, energy, the digestive system, the respiratory system, the lymphatic system, the reproductive system, the urinary system, and the nervous system.
Nature Study – regular work in your student's Nature Journal. Using the Handbook of Nature Study. the areas of focus for each term are: 1) fish 2) the brook 3) cultivated plants and 4) trees.
Picture Study – Edgar Degas, Claude Monet, Auguste Renoir, and Winslow Homer. The Grade Seven Resources include all the pictures needed for study.
World History – an overview of the story of history from ancient Greece to the Middle Ages. Original documents are often used to make historical facts come alive.
American History – the era of study is from early exploration to the time period of the Civil War. As with American History, original documents are used to make the historical facts come alive. The book used for this study is used again in Grade Eight.
Composer Study – A review of the great composers and their music, their biographies as well as a resource for listening are included with purchase.
Best Loved Literary Fairy Tales
Literary fairytales for the older student. Best for ages 9-12.
Best-loved Literary Fairytales is a collection of thirteen literary tales penned by the best and most notable writers of the late nineteenth and early twentieth century-a time considered by many as the golden age of children's literature. Original illustrations include Arthur Rackham, Maude Humphrey, and Kate Greenaway. Readers will delight in the imaginative landscapes each story reveals and the spiritual truths hidden there.
Jabberwocky
Poems for study and narration. Best for ages 11-15.
Thirty-two poems for reading and response. Each poem was selected for its appeal to students ages 12 and up and includes study and narration questions to enrich understanding and appreciation. The poetic works chosen are among the most well-known in american and British literature, including W. B. Yeats, Walt Whitman, Lewis Carroll, Sara Teasdale, Rudyard Kipling, Emily Dickinson and Edgar Allan Poe.
LBC Nature Journal
A guide to how to keep a nature journal and a template for creating your own nature journal. This 96-page book follows Charlotte Mason's guidelines, has a 36-week nature journal template, includes tips, suggestions, a bird, tree and mammal observation list for you to keep a record of sightings and food for thought on the many ways nature study enriches your child's life.
****Important Notice:  Except upon agreement by communication with Living Books Curriculum before purchasing, all returns/refunds for bundles for physical products are only issued with a return of all physical items of the bundle.  Partial return of items included in a bundle may withhold your refund if the return is not complete.  All primary standards regarding returns and refunds can be seen here.