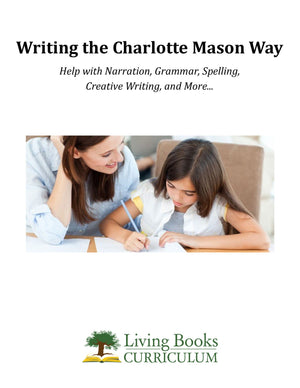 Writing the Charlotte Mason Way
Sale price Price $47.00 Regular price Unit price / per
Get Help with Grammar, Spelling, and Clear, Powerful Writing the Charlotte Mason way.
Dear Homeschooling Parent,
Teaching your child to write well is an important task…it can also be the most stressful.
Many mothers tell me it's difficult, confusing, and frustrating, one mother told me "…it's the worst part of the day."
Charlotte Mason said "If we could believe it, composition (writing) is as natural as jumping and running to children who have been allowed the due use of books." (Home Education p. 247) Wow, really? Yes, really.

"I Have Tried Writing Programs and They Don't Work"
The reason the writing programs have not worked is not because of YOU. It is because it's a system rather than an organic process of going from oral expression to written expression. In other words, you need a method…a set of principles to apply to the individual needs of your children.
I will show you how to use a simple one…two…three…step process. The secret is to begin with good books…from there writing becomes easier and easier.
Now You Can Get Help with
Grammar, Spelling, AND Clear Writing.
The three-step process to good writing the Charlotte Mason way.
How to use written narrations as a springboard to other forms of writing.
Why students hate most writing programs.
How to use literature as a model for good writing.
How to teach grammar and spelling using written narrations.
Seven kinds of writing and how to use them in subjects such as science, history, or nature study.
What Others Say
I CAN do this!
Your course has thoroughly encouraged me and let me know I CAN do this! It has helped me to see the process/progress of narration, the many, many ways you can incorporate writing into your days and sooo much more! The girls are already on board. I'm ready for the 1 a month class. Thanks for all you do for us. Also thank you moms for all your insights.
Anna  Garcia
…how intense it was...how much information we have received!
The writing course was a huge blessing and I'd say I reached my goal of making this a top priority in our homeschool… how intense it was, and how much information we have received! How many great ideas we were exposed to!
Elizabeth Falckh
…woke up my love for storytelling
Thank you, Sheila, for the writing course. It was very helpful to get questions answered and woke up my love for storytelling. Thank you.
Yuko Muhling
You are a gem!
Thank you again and again for your time in putting this on. You are a gem!
Nichelle Bilinsky
My kids area catching the vision!
I've enjoyed and learned many new things. I have been missing the transcription piece of the three-step process and am so glad to be reminded of it. I've also enjoyed learning how to think about this approach with much more directive clarity. The different types of writing have helped me to mix things up a little and enliven our writing. I've been talking with the kids and they are catching the vision! Thanks so much!
Natalie Schultz