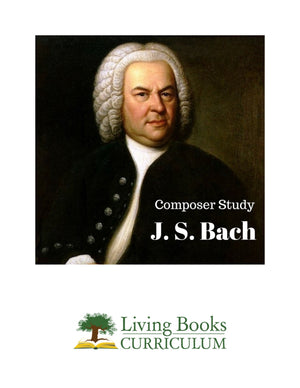 Composer Study - Johann Sebastian Bach
Sale price Price $37.00 Regular price Unit price / per
A rich, easy-to-follow, 15-lesson study of Johann Sebastian Bach (1685-1750), one of the great composers of all time and one Charlotte Mason recommended for her students.  
Bach was a German composer and musician of the Baroque period. He is known for instrumental compositions such as the Art of Fugue, the Brandenburg Concertos, and the Goldberg Variations, and for vocal music such as the St Matthew Passion and the Mass in B minor. All of these are included in this study.
The course can be done in one term or over a period of months. It includes audios for each type of musical composition, biographies of Bach and his family, helpful tips for listening and guidelines from Charlotte Mason's writings.
Mason said that in music study the same principles apply as do in picture study, nature study, and nature notebooks--- the need for attentiveness and good observation. The goal is to have children learn to enjoy classical music and tell one piece from another just as naturally as they would plants in nature.
"It is a pity," says Miss Mason, "that we like our music as our pictures and our poetry mixed, so that there are few opportunities of going through as a listener a course of the works of a single composer . . . Let young people study as far as possible under one master until they have received some of this teaching and know its style." 

From In Memoriam, "Some Impressions of the House Of Education."
Here is our musical listing lesson by lesson.
Well-Tempered Clavichord
Ave Maria
Ein Feste Burg Ist Unser Gott. (A Mighty Fortress Is Our God)
Air on a G String
Violin Concerto No. 1 in A Minor
My Heart Ever Faithful from For God So Love the World
Brandenburg Concertos: Concerto #1 (There are six in all)
Brandenburg Concertos: Concerto #2
Jesu, Joy of Man's Desiring
Air in D
Anna Magdalena's Notebooks
Prelude and Fugue in D major Chorales
Suite in F
Chorales
Schemelli Hymns
NOTE: If you purchased LBC's Grade Three teaching guide this study is included with it.