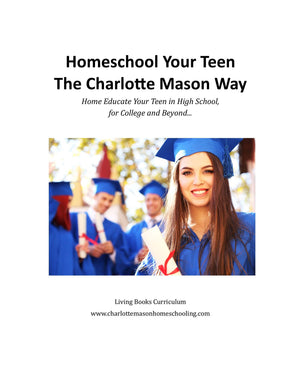 Homeschool Your Teen the Charlotte Mason Way
Sale price Price $67.00 Regular price Unit price / per
Finally, Everything You Need to Confidently and Effectively Homeschool Your Teen in High School Using The Proven Charlotte Mason Method in One Step-by-Step Program...
Jim and Sheila Carroll, lifelong educators, owners of Living Books Curriculum and Charlotte Mason experts have put together everything you will need from transcripts to motivation and support, from lesson plans to time management. It's all in one place for you, so you can focus on what's important... Preparing your teen for the next step and a happy, healthy, future. 
Help with...
How to properly assign credits for transcripts while using the Charlotte Mason method?
How to put together a quality transcript that will be accepted at your university of choice?
How to organize your high school curriculum using the living books approach of Charlotte Mason?
How to manage your homeschooling time and how to share these time-management principles with your teen?
How to handle the higher-level math, science, and writing requirements for your teen?
Why Charlotte Mason is the best method to use to teach your high school teen?
How to keep your Christian focus and studies going through high school?
How to find the best resources without having to sort through thousands of web pages
How to prepare for the college entrance exams if that is the direction you are taking your child's future?
How to keep flawless records for state and college requirements.
What You Receive
This 16-lesson course is packed! Everything you will need to create a four-year (or three or two) plan is packed into one easy-to-use document.
Here is what it contains....
Step-by-step lessons, audios to guide and inspire, checklists, tip sheets, templates, and additional resources to make your high school homeschooling experience easier and to help you along the way.

Every lesson is strategically created so you'll quickly and easily SEE RESULTS.
What Others Say
This course was amazing!  I highly recommend it for anyone who has or will have a high schooler to homeschool.  My high schooler is doing much better, so I know that her 9-year old brother and 5-year old sister will do quite well in their time!
~Elizabeth Hicks
I really enjoyed this course.  I have bought other "how to" programs before in book form and they have helped.  But the accessibility of Sheila and Jim adds a personal touch that helps me tremendously.  Thank you!
 ~Laura Hambrick
What I like about the program is that it is given in small bites (eating the elephant).  Waiting for the next lesson afforded the right amount of time to digest the information given.  The bonus' and the audio's were also a great benefit to the program. The cost and the method of payment really allow everyone an opportunity to take advantage of your service.   The templates were also a blessing for my family…
~Nicole Bowe-Rahming