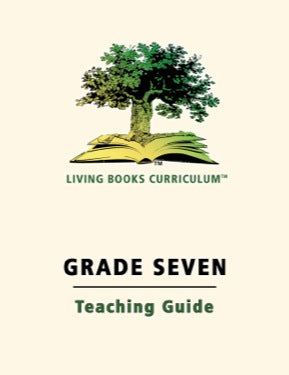 LBC Grade Seven Teaching Guide & Resources
Sale price Price $97.00 Regular price Unit price / per
Grade Seven is the first in a two-year cycle of studies for junior high. The digital edition is identical to the print edition and includes the Resources within the download.
Grade Seven begins a two-year cycle of studies to be completed in Grade Eight. World history covers ancient civilizations to the modern age and American history covers early explorations to the present. Primary documents and original source material are used as much as possible. The goal of both history studies is to solidify understanding and give a sense of the great flow of events. Grade Seven also continues the exploration of great literature with, Shakespeare, Best-loved Literary Fairy Tales, Jabberwocky: Poetry Studies for Junior High, Picture Study and Composer Study. For science, the text Exploring Creation with General Science is used. We also include an optional review of basic grammar, for those who are first-time users of our curriculum. The Grade Seven Resources comes with each Teaching Guide. It includes a year of picture study, nature journal, planner, maps and many other curriculum helps.
Print version: 136 pages, wire bound
Digital version:  direct download
--
Detailed Description of Grade Seven
Grade Seven Suggested Schedule
This 96 page guide includes the new 4-weeks-at-a-glance format and many helps and instructions for applying Charlotte Mason's principles of education. This grade covers:
Christian Studies-Bible study and practical work, according to Charlotte Mason's guidelines.
Language Arts - Shakespeare along with two Living Press books:



Jabberwocky: Poetry studies for Junior High





Geography - A Book of Discovery, provides an historical context for exploration and geographical knowledge that excels most geography texts because it uses rich literary descriptions of peoples and places; Also includes map work and Book of the Centuries focusing on the places and events mentioned in the histories, science and geography literature. This book is used again in Grade Eight.
Science - uses Exploring Creation with General Science to look at introduce the history of science, scientific inquiry, experimentation, simple machines, archeology, geology, paleontology, fossils, the fossil record, life, classification of life, the human body, energy, the digestive system, the respiratory system, the lymphatic system, the reproductive system, the urinary system, and the nervous system.
Nature Study - regular work in your student's Nature Journal. Using the Handbook of Nature Study. the areas of focus for each term are: 1) fish 2) the brook 3) cultivated plants and 4) trees.
Picture Study - Edgar Degas, Claude Monet, Auguste Renoir, and Winslow Homer. The Grade Seven Resource CD contains all the pictures needed for study.
World History - an overview of the story of history from ancient Greece to the Middle Ages. Original documents are often used to make historical facts come alive.
American History - the era of study is from early exploration to the time period of the Civil War. As with American History, original documents are used to make the historical facts come alive. The book used for this study is used again in Grade Eight.
Composer Study - A review of the great composers and their music, their biographies as well as a CD for listening are included with purchase.